Minecraft Education Education
Branding for the Minecraft Education Edition felt like an important task. I was making something that was going to be seen and touched by so many educators and students alike, so I had to create something that was Minecraft, but also showed different aspects learning. I used the bookcase block as the main icon and built around that aesthetic.  Objects in the game were recreated to represent different learning modules. 
Sometimes you get a project that is incredibly exciting. And sometimes as an artist you get really happy with what you've presented, even if it doesn't always pan out in the end. That was the case here unfortunately, but because everyone was such a fan I decided to make some stickers for the whole studio. Yay!
Minecraft / Adventure Time Crossover
It's no secret the creator of Adventure Time was a fan Minecraft and when Cartoon Network asked what we thought a crossover might look like, I was pretty excited to give it a go. 
The Give Foundation held a charity for some people to have an in-game avatar made in someone's likeness. I received photos of some children and created the avatars and posters below with them. Fun project for a great cause. 
On occasion the team will create skin packs for the fans and it's always fun to help out on something as big as Star Wars.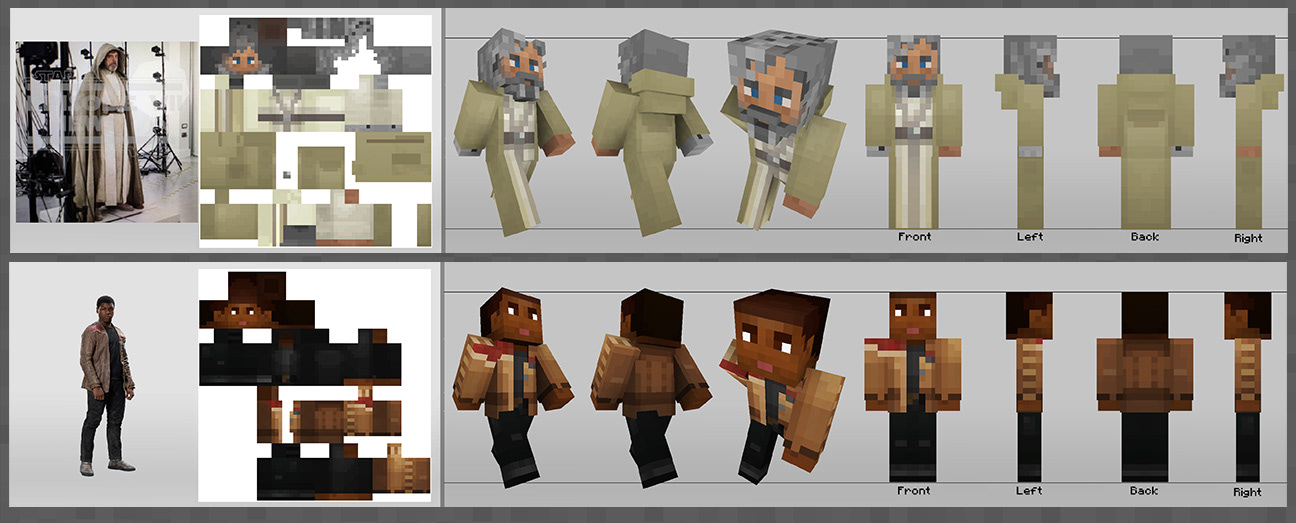 Lego MiniFigs, Apple TV and  Amazon Banners, Wallpapers, and the first flying bird to appear in Minecraft
As a UI concept project I designed and framed out all the things we could make inside of a custom character creator built right in to Minecraft. I showed all the uses for the different tabs I created and how they would look and feel to the user. The images below only show a small section of the whole project.